My moment of sanity for the day: http://xkcd.com/538/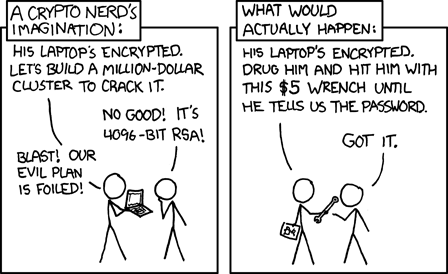 That's always the weakest link in any security implementation. No matter how advanced the cryptography or anonymity or anti-hacking software you stick on your computer or web server or email, all it takes is some bastard with a $5 wrench to beat the secrets out of you, or for that matter, one of your extramarital affairs sending threatening letters to another of your extramarital affairs using the secret Gmail account you set up to transmit supposedly untraceable messages to each other via the drafts folder.
If the head of the CIA, the nation's top spy, can't even keep his own peccadillos secret on the Internet, what chance do I, a mere mortal with a 5-year-old MacBook, have? Best to not put anything anywhere near the Internet that I don't want seen in the papers or discussed in front of a jury.